D & L Landscaping and Exterior Cleaning: Upper St. Clair's Premier Landscaping Company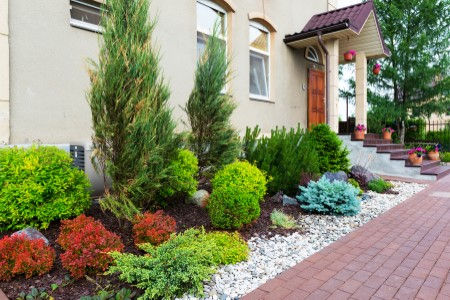 D & L Landscaping and Exterior Cleaning is a top-quality landscaping company that is committed to helping Upper St. Clair residents with all their lawn maintenance and pressure washing needs.
For more than 17 years, we've been providing local homeowners in the greater Upper St. Clair region with unmatched landscaping services, from mulching to hedge trimming, and everything in between.
If you'd like to know more about the services we offer and how we can help transform your Upper St. Clair home, please keep reading.
The Finest Lawn Maintenance Services In Upper St. Clair
Below are a couple of our landscaping and lawn maintenance offerings.
General landscaping/lawn maintenance: From lawnmowing to leaf-blowing, we handle it all. Rather than tiring yourself out trying to maintain your property, let our experts handle it for you.
Garden bed maintenance: Your garden bed deserves to look its best, but it can take a lot of time and effort trying to maintain it on your own. Luckily, we offer garden bed maintenance, which includes weeding, pruning, and more.
Hedge and shrub trimming and removal: The perfectly placed shrubs and hedges around your lawn can really make it pop, but they can be annoying trying to maintain. We have the right trimming equipment to shape them up and rejuvenate them so that your property can achieve its maximum potential.
Mulching: Mulch is great for plants and your lawn. It keeps the soil warm and moist, it prevents weeds, and it can promote healthy growth. But spreading mulch can be tiresome and time-consuming, which is why we recommend hiring D & L Landscaping and Exterior Cleaning to do it for you.
This is only a small portion of the landscaping and lawn maintenance services we offer. If you'd like to see what lawn maintenance we can provide for your Upper St. Clair home, please call us at 412-953-1114.
Full-Service Pressure Washing Packages for Upper St. Clair Residents
Aside from our landscaping and lawn maintenance services, we also provide pressure washing for residents across Upper St. Clair. Below are a couple of our packages.
Pressure washing: Dirt and grime can accumulate on the surfaces all-around your property, and hosing them down won't get them clean. You need our commercial-grade pressure washing equipment to really get rid of those stubborn stains.
House washing: Want to boost your curb appeal? Our house washing package will clean your home's exterior from top to bottom, removing dirt from the siding, roof, doors, windows, and stoop. We can completely transform the look and feel of your home!
Concrete cleaning: Concrete is tough to clean because of its tough surface, especially if dirt has had a long time to settle in. With our methods and equipment, we can get deep into the core of the concrete and remove the impurities from within to make the surface look as good as new.
Reviews & Testimonials on D & L Landscaping and Exterior Cleaning in Upper St. Clair, PA
There are currently no reviews or testimonials, check back soon!
Articles & Tips
Taking care of your lawn and garden is a necessary component of homeownership. However, many residents seem to think that lawn care is simply mowing every other week and raking some leaves in the fal […]
Read More
Are you planning to have a professional landscaping company come to take care of your property in the near future? If so, then you want to make sure that you're properly prepared for their arrival. B […]
Read More
CONTACT US
If you are looking for an Upper St. Clair landscaping company or exterior cleaning, then please call 412-953-1114, or complete our online request form.