Roof Cleaning Cleans And Protects Your Greater Pittsburgh Area Property's Roof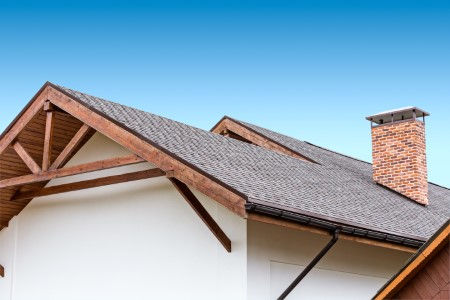 Rather than putting yourself at risk by trying to clean the roof of your Jefferson Hills home, why not hire a professional roof cleaning service instead? Thankfully, D & L Landscaping and Exterior Cleaning can handle this for you.
Although we pride ourselves on our landscaping expertise, we're also recognized for being true pressure washing specialists as well. We have a set of commercial-grade pressure washing equipment that allows us to remove even the most stubborn stains and grime from exterior surfaces. We use these tools to help us with various services, from full house washing to simple roof cleaning.
Your roof can become a hot spot for all kinds of mold, mildew, fungus, and other unwanted guests. Leaving it unattended will make your roof look unsightly and gross. Even worse, certain growths can actually seep into your home and cause health problems for you and your family. The rain won't do much to remove these growths, so you need to really get in there with a solid pressure washer. That's why it's important to address it sooner rather than later.
Cleaning your own roof is not only difficult but also dangerous if you don't know what you're doing. That is why we implore you to hire us to take care of it for you. We're a licensed and insured company with many years of experience in this sector, so we know the safest, most efficient ways to clean your roof and get the best results.
Why You Need Soft Washing For Your Roof
Depending on the material used in your roof, you have to be very careful about your pressure washing strategy. Some pressure washers might be too strong and can actually cause damage to the roofing material. That is why D & L Landscaping and Exterior Cleaning uses soft washing methods for our Jefferson Hills roof cleaning services.
Soft washing is a lighter form of pressure washing, but with two key differences. First, we turn down the level of pressure so that there is a little bit of force left, but it's nowhere near as tough as what we'd use on concrete or stone. Then, we use special eco-friendly soaps and detergents mixed in with the water to help eat away at the grime and gunk on your roof. This combination is strong enough to remove unwanted dirt and vegetation from your roof, but gentle enough to not harm the surface underneath.
To find out more about our roof cleaning service, we ask that you contact us today. A helpful representative is ready to take your call and to address your questions or concerns. We'll walk you through the entire process and help you get a better understanding of how we'll make your roof look as good as new.
Articles & Tips
Taking care of your lawn and garden is a necessary component of homeownership. However, many residents seem to think that lawn care is simply mowing every other week and raking some leaves in the fal […]
Read More
Are you planning to have a professional landscaping company come to take care of your property in the near future? If so, then you want to make sure that you're properly prepared for their arrival. B […]
Read More
CONTACT US
If you are looking for dependable roof cleaning in the Greater Pittsburgh area, then please call 412-953-1114, or complete our online request form.