Pro Tree Services: Managing Small Trees With Pruning, Thinning, & Planting In Your Greater Pittsburgh Area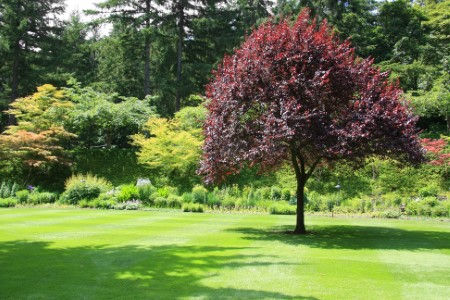 As one of the top landscaping companies in the greater Jefferson Hills region, we're proud to offer a wide variety of lawn care and maintenance services, including tree services.
Our premier landscaping company has been in business for more than 17 years, and since we first opened our doors, we've been committed to delivering unparalleled service. From mulching to edging installation, we handle it all. One package we want to speak about here is our tree service.
If you have a small tree on your lawn that requires maintenance, upkeep, or full-on removal, we're the people you should call. We have the right equipment and tools, as well as years of knowledge and experience, to know the best way to help you out. Whether you need some branches cut or pruned, or you need the entire tree cut down, you'd be wise to hire us to take care of it instead of trying to handle it on your own.
Many homeowners often make the mistake of trying to maintain trees on their own. The reality is that most don't know the best techniques or methods to use to get the greatest results. By hiring our tree service, you can put your worries to rest and let us handle the dirty work. Just give us an idea of what you're looking for, and we can take care of the rest. After we're finished, you'll be glad that you hired D & L Landscaping and Exterior Cleaning.
Want to find out more about which tree service is best for you? Contact us today and speak with a knowledgeable representative. We'll listen to your questions and concerns, and then offer you guidance on which offering is best for you.
Hedge Trimming and Removal Services Available in Jefferson Hills
Hedges can do wonders for improving the aesthetic value of your Jefferson Hills home. However, they can be tough and tedious to maintain, especially if you don't have the right experience or equipment. Rather than worrying yourself with this chore, why not hire D & L Landscaping and Exterior Cleaning to take care of it for you?
As part of our hedge trimming services, we'll prune and thin out the hedges along your property so that they don't look unkempt or poorly maintained. After we're finished, you'll marvel at how we've transformed the look and feel of your hedges, as well as your entire landscape.
Want to change your overall scenery? We also offer hedge removal services as well. We'll completely remove the hedges that are bothersome to you and then fill in the spot with another shrub or just regular sod or soil. You shouldn't have to live with a hedge you don't like, so it's crucial that you contact us as soon as possible to see how we can help you.
Articles & Tips
Taking care of your lawn and garden is a necessary component of homeownership. However, many residents seem to think that lawn care is simply mowing every other week and raking some leaves in the fal […]
Read More
Are you planning to have a professional landscaping company come to take care of your property in the near future? If so, then you want to make sure that you're properly prepared for their arrival. B […]
Read More
CONTACT US
If you are looking for top-notch tree services in the Greater Pittsburgh area, then please call 412-953-1114, or complete our online request form.