Prime Landscape Edging Installation Is A Simple Way To Create Separation In Your Greater Pittsburgh Area Landscape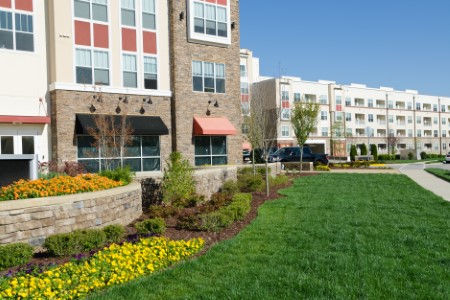 As the premier landscaping company of West Mifflin, PA, D & L Landscaping and Exterior Cleaning is proud to offer a wide range of lawn care and maintenance services, including edging installation.
For the past 17 years, we've been assisting homeowners with all their lawn maintenance needs, from mowing, to hedge trimming, to mulching, and everything in between. As the best landscaping company in the region, we also provide edging installation, which can make a significant impact on your lawn and garden.
Why do you need an edging installation for your home? There are actually multiple benefits that come with it, but mainly it has to do with aesthetics. Edging installation can give your home and lawn a perfectly manicured look, making your landscape appear properly trimmed and cut. If you have a garden, edging will also allow you to keep it from sloppily merging with the landscape, and instead will make it look better maintained. This can add to your overall curb appeal and significantly improve your property's value. Whether you want to impress the neighbors or boost the value of your home for an upcoming sale, edging installation can make a world of difference.
Another benefit of edging installation is that it can act as a necessary barrier. If you don't want certain plant roots to grow or extend beyond a perimeter, edging will halt it. This means you won't have to worry about flowering plants escaping onto the lawn or vice versa. Edging can also assist with keeping weeds out of sensitive areas by once again providing a solid barrier.
Overall, edging has as much practical value as aesthetic value. While it may seem like extra work, it will end up benefiting you in the long run. That is why we recommend that you contact us right away to find out more about our edging installation package.
Mulching Can Help With Weed Reduction And Prevention
Along with edging, it's important to take other necessary measures to protect your garden and lawn. One way to do that is through mulching.
Mulch helps plants and flowers thrive because it keeps the soil warm and moist, it adds nutrients to the soil, it promotes healthy growth, and it reduces and prevents weeds from taking over. If you're tired of weeds killing other plants around your property, mulching can be the solution.
With our mulching services, we'll bring the mulch to your home and spread it where it's most needed. We'll then evenly distribute it to ensure all the problem areas get as much as they require to flourish. After we're done, you'll be impressed not just how much cleaner and fresher your lawn will look, but also what a difference the mulch will make in the health of your garden and landscape.
Articles & Tips
Taking care of your lawn and garden is a necessary component of homeownership. However, many residents seem to think that lawn care is simply mowing every other week and raking some leaves in the fal […]
Read More
Are you planning to have a professional landscaping company come to take care of your property in the near future? If so, then you want to make sure that you're properly prepared for their arrival. B […]
Read More
CONTACT US
If you are looking for quality landscape edging installation in the Greater Pittsburgh area, then please call 412-953-1114, or complete our online request form.