Our Concrete Cleaning Crew Is Here To Care For Your Greater Pittsburgh Area Exterior Concrete Surface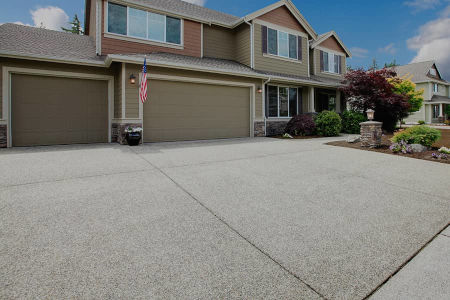 If you're in search of a reliable concrete cleaning company to take care of your West Mifflin property, then look no further than D & L Landscaping and Exterior Cleaning.
Even though we've been providing top-quality landscaping services for the past 17 years, we're also proud to be known as an outstanding pressure washing business as well. In addition to our fleet of landscaping vehicles and equipment, we also have fine pressure washing tools, allowing us to provide such services as house washing, roof cleaning, and concrete cleaning.
Concrete cleaning isn't as simple as it sounds. You can't just get a hose and expect to be able to wipe away all the dirt, grime, and gunk. When dirt is allowed to sit on concrete over time, it seeps deep into the surface, reaching its core. This can cause the concrete to look worn-out and deteriorating, and it can even cause it to eventually split.
As part of our concrete cleaning service, we'll use our high-powered, commercial-grade pressure washing equipment to get past the surface and fully penetrate the concrete. This allows us to remove all the impurities that have settled within its core. We'll even go over the concrete surfaces multiple times until we're sure we've removed all the gunk. After we're finished, we'll give you a chance to come out and take a look at what we've accomplished. If you're not satisfied with our concrete cleaning results, please let us know so that we can provide a quick and proper solution.
How Soft Washing Can Benefit Concrete Surfaces
Typically, we reserve soft washing for more delicate surfaces, such as shingles, vinyl siding, and screens. However, we find that there is a benefit to using it for concrete as well.
What is soft washing? This involves us turning down the pressure on our equipment and combining the water with special eco-friendly detergents and soaps. These soaps eat away at grime and gunk without causing damage to the surfaces underneath, providing an effective and safe way to clean delicate areas around the home.
For concrete, using these soaps means we can do a better job of removing stubborn stains, no matter how long they've been sitting. We want to make sure the concrete around your home looks its absolute best, so we'll pull out all the stops to make sure we get the best results.
Don't worry. The detergents we use in our soft washing methods are completely safe and eco-friendly. You won't need to worry about damage or harm coming to you, your family, or the environment.
Call us today to learn more about our concrete cleaning services. A helpful representative is ready to answer any questions you have about our equipment, the soaps we use, or our overall methods for tackling this service.
Articles & Tips
Taking care of your lawn and garden is a necessary component of homeownership. However, many residents seem to think that lawn care is simply mowing every other week and raking some leaves in the fal […]
Read More
Are you planning to have a professional landscaping company come to take care of your property in the near future? If so, then you want to make sure that you're properly prepared for their arrival. B […]
Read More
CONTACT US
If you are looking for first-rate concrete cleaning in the Greater Pittsburgh area, then please call 412-953-1114, or complete our online request form.