Leading Decorative Stone Installation: Laying Landscaping Stones To Create A Unique Outdoor Space On Your Greater Pittsburgh Area Property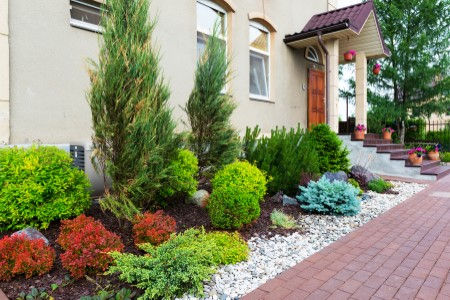 If you're planning on decorative stone installation for your Jefferson Hills property, you'll want a top-rated landscaping company to handle it for you. Thankfully, D & L Landscaping and Exterior Cleaning has got you covered.
For more than 17 years, our professional landscaping company has been providing unmatched landscaping, lawn maintenance, and garden care services to residents all across the area. One service that we offer to our clientele is a decorative stone installation.
As the name suggests, decorative stone installation is a great way to decorate your garden or lawn and give it personality. We work with you to pick out the best stones to accent your property, and then we handle every aspect of the installation, from bringing the supplies to your home to cleaning up afterward. Once we're done, you might not even recognize your property because of what we accomplished with some stones, a little bit of elbow grease, and out-of-the-box creativity.
Another benefit of decorative stone installation is that it can reduce or prevent weed growth. It's difficult for weeds to make it past stone or brick, which is why we often recommend lining your garden bed with these hard substances. That way, you can increase the aesthetic value of your property while also avoiding the growth of annoying vegetation.
If you hire us for your decorative stone installation, you won't need to worry about a thing. As we mentioned before, we handle every aspect of the process. However, we want to work with you closely at the beginning of the project to ensure we pick out the right stones and patterns. Transparency is key to excellent customer service, and we don't want you to be caught off-guard by any surprises.
Weed Barrier Installation Can Halt Weed Growth
Aside from decorative stone installation and mulching, another way to help prevent or slow down weed growth is weed barrier installation.
Weed barriers are typically made of a special cloth, similar to a tarp, which is designed to prevent weeds from growing over a certain spot. The barrier deprives weeds of the necessary conditions they need to thrive, ensuring that they won't take over.
Don't worry. The weed barriers we use are designed to blend in with the soil, and we do our best to cover them up after we've installed them. This means that you can reap the benefits of the barrier but not have to worry about any unsightly materials poking out from your garden or lawn.
If you'd like to learn more about any of our weed prevention strategies such as decorative stone installation, mulching, or weed barrier additions, please make sure to call us as soon as possible. We want to help your garden, and in order to do that, we'll work our hardest to prevent weed growth.
Articles & Tips
Taking care of your lawn and garden is a necessary component of homeownership. However, many residents seem to think that lawn care is simply mowing every other week and raking some leaves in the fal […]
Read More
Are you planning to have a professional landscaping company come to take care of your property in the near future? If so, then you want to make sure that you're properly prepared for their arrival. B […]
Read More
CONTACT US
If you are looking for prime decorative stone installation in the Greater Pittsburgh area, then please call 412-953-1114, or complete our online request form.