Greater Pittsburgh Area Garden Bed Maintenance: Caring For Your Home Garden & Green Space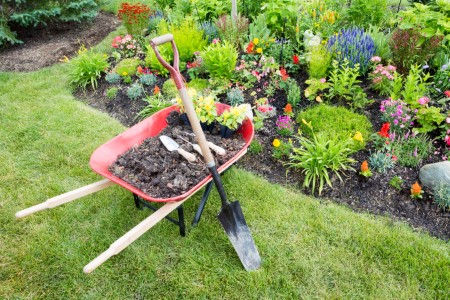 Pleasant Hills homeowners in need of a reliable company to handle their garden bed maintenance can turn to D & L Landscaping and Exterior Cleaning to get the job done!
Ever since we opened our doors more than 17 years ago, we've been regarded as the top landscaping company in the region, and for a good reason. Aside from our arsenal of contractor-grade landscaping and lawn care equipment, we're also committed to ensuring all of our customers are satisfied with the results of our work. From mulching to tree pruning, we handle it all. But what you may not realize is that we offer another type of service: garden bed maintenance.
Having a garden is a wonderful part of being a homeowner, but many residents fail to realize just how difficult it is to maintain this area of your property. Over time, your garden and its plants can be overtaken by bugs, fungus, weeds, and other unwanted pests. All your hard work can disappear quickly without proper maintenance. That's where we come in.
D & L Landscaping and Exterior Cleaning will use our years of experience in lawn and garden care to provide the best care possible. We'll remove weeds, add mulch, install protective barriers, prune plants, and much more. Rather than exhausting yourself by spending hours maintaining your garden, you can hire the experts to handle it for you.
After we've finished our garden bed maintenance service, we'll go through the process and inform you of everything that was completed and what you can do to ensure your garden continues to thrive. Your garden deserves to look great, and the only way to do that is with regular maintenance. Don't wait too long. Call in the experts today!
We Offer Seasonal Clean Up For Pittsburgh Homeowners
No matter which season, your lawn needs to be tidied up, whether it's from weeds, leaves, bugs, and more. However, it can be exhausting and time-consuming trying to handle it all on your own. To ensure you get the best seasonal clean up results, you'll want to work with D & L Landscaping and Exterior Cleaning.
Our team of committed landscaping contractors will work diligently to remove any and all debris from your property. After we're finished cleaning up, we'll completely handle the disposal, so that you don't need to worry about anything at all. The only thing you'll need to do is come outside and marvel at the transformation of your lawn!
If you'd like to learn more about any of our aforementioned services, such as seasonal clean up, lawn maintenance, or garden bed maintenance, we invite you to give us a call today. A helpful and knowledgeable representative is ready to take your call and to answer any and all of your questions.
Articles & Tips
Taking care of your lawn and garden is a necessary component of homeownership. However, many residents seem to think that lawn care is simply mowing every other week and raking some leaves in the fal […]
Read More
Are you planning to have a professional landscaping company come to take care of your property in the near future? If so, then you want to make sure that you're properly prepared for their arrival. B […]
Read More
CONTACT US
If you are looking for pro garden bed maintenance in the Greater Pittsburgh area, then please call 412-953-1114, or complete our online request form.