Top Mulching Helps To Stop Weeds & Define Your Landscaping Spaces On Your Greater Pittsburgh Area Property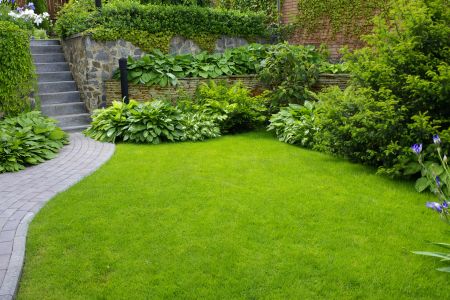 When it comes to mulching, you'll have a difficult time finding a better service provider in Pleasant Hills than D & L Landscaping and Exterior Cleaning.
As one of the premier landscaping companies in the region, we take pride in all of our lawn maintenance services, especially mulching. When you hire us, you can rest assured knowing you're hiring a superior landscaping company to get the job done.
Many homeowners might ask themselves, "Why is mulching important?" Well, mulching actually comes with numerous benefits to your lawn and garden. Fresh mulch can:
Help the soil retain its moisture
Prevent or reduce weed growth
Keep the soil nice and warm
Enrich the soil with necessary nutrients
... and much more!
The problem with mulching is that many residents might not be aware of the best practices to distribute it, or how much they should use. If you use too little mulch, you won't be able to fully reap its benefits. If you use too much, you can risk harming your plants or lawn, plus you can end up wasting a lot of it.
Since we've been in this industry for such a long time, we know all the right strategies and methods to use to get the best results. We'll not only properly lay the mulch down in necessary areas, but we'll also carefully distribute it, making sure every part of your lawn or garden is able to benefit from its healthy qualities.
Instead of exhausting yourself and getting dirty trying to spread your own mulch, give D & L Landscaping and Exterior Cleaning a call today so that we can do it for you. After you see our results, you'll be glad you did!
Install a Weed Barrier to Protect Your Lawn and Garden
While mulching does a great job at protecting your lawn and garden from developing weeds, in some instances, you might need to take extra measures, such as installing a weed barrier.
Weed barrier installation isn't very complicated, but you want to make sure you're hiring the right people to handle it. The D & L Landscaping and Exterior Cleaning team knows the right amount of barrier to use and where exactly to place it to ensure it adequately protects your lawn or garden. We also know how to cover up the barrier to keep your property looking nice and clean without having any unsightly tarp exposed.
You don't want your lawn or garden to be taken over by weeds, so it's a good idea to take the extra precautions. Contact us today to find out more about our services, such as mulching, weed barrier installation, or any other solutions for protecting your lawn and garden from annoying vegetation.
We can't wait to hear from you!
Articles & Tips
Taking care of your lawn and garden is a necessary component of homeownership. However, many residents seem to think that lawn care is simply mowing every other week and raking some leaves in the fal […]
Read More
Are you planning to have a professional landscaping company come to take care of your property in the near future? If so, then you want to make sure that you're properly prepared for their arrival. B […]
Read More
CONTACT US
If you are looking for experienced mulching pros in the Pleasant Hills area, then please call 412-953-1114, or complete our online request form.